November 17, 2019
Dear Fellow Members of the Body of Christ,
We are nearing the end of the liturgical year. Year-end is a time of reflection on what we have accomplished during the past year. Throughout the last year we have been working with the simple phrase "Growing the Body of Christ". In her letter last week People's Warden Ruth-Anne Marley presented four examples of what we have done to put life into the Body of Christ.
As we look ahead to the season of Advent and the new year we also think about gifts. It is a time to reflect on the gifts that we have received and to think about the gifts that we plan to give. We look forward to the coming of Christ who gave himself as a sacrifice for us so that we may live freely.
Each week we receive the Body of Christ in the Eucharist and so become the Body of Christ. This reminds us that we want deepen our union with Christ. We do this week by week not only by receiving the Eucharist but also by our spiritual practices. Early in the year Rev. Deacon Elizabeth and Karen Wold presented a Lenten Quiet day retreat and will be offering an Advent Quiet day retreat on December 7. This is a time for quiet reflection, contemplation and a deepening of our union with Christ. Through the activities offered under the "Retreat Centre" (under the guidance of Rev. Deacon Elizabeth) more opportunities for spiritual growth have been developed.
We believe that when we receive the Body of Christ we are united to him body, soul and spirit. As St Paul said our bodies are temples. Through the guidance of the Rev. Faith Brace we have focused more on the sacraments of healing. We have had healing services on a regular basis (4 times a year) in which people have gladly come forward to receive anointing and healing prayer during the Eucharist. The sacrament of reconciliation has been made more available for people to open their hearts and receive forgiveness.
Our own giving is a spiritual discipline. Since we are so richly blessed by God we willingly give back to Him. We've been blessed at All Saints with your generous giving in 2019. This has enabled us to carry out our ministries to strengthen the Body of Christ within All Saints and in the broader community. In the last year we have undertaken outreach and partnership with our friends in the Stony/Nakoda Nation at Morley (through the Grief and Loss program run by Rev. Deacon Elizabeth) and at St Barnabas Parish at Tsuu T'inna. Each Sunday the reserved sacrament from our tabernacle is taken to St Barnabas by one of our parishioners. We also now have services at four seniors' residences (two were added this year). Through Christ's ministry here His Body is being shared with more and more people. Our tabernacle has become Grand Central Station!
As we contemplate the new year we are reminded to consider our level of giving. Are we intentionally giving the first fruits to God or is our giving an afterthought? Are we able to grow our giving and strive to achieve a tithe, or more. Think of the parable of the poor widow who gave all she had. The following chart illustrates various levels of annual giving at All Saints. Locate where you are and consider moving up one step. Pledge cards on which you can pledge your annual giving for 2020 will be distributed this Sunday. Please prayerfully consider your response to God's gifts and indicate the amount you intend to give in 2020. Please return the card on November 24, Christ the King Sunday. Pre-Authorized Donation forms will also be distributed so that you can increase your monthly gift or can elect to start giving in this way.
To print a copy of the pre-authorized donation form, please click on the following link: Pre-Authorized Donation Form. If you have questions regarding this method, please speak to Sharon Barnden at 403-932-7485.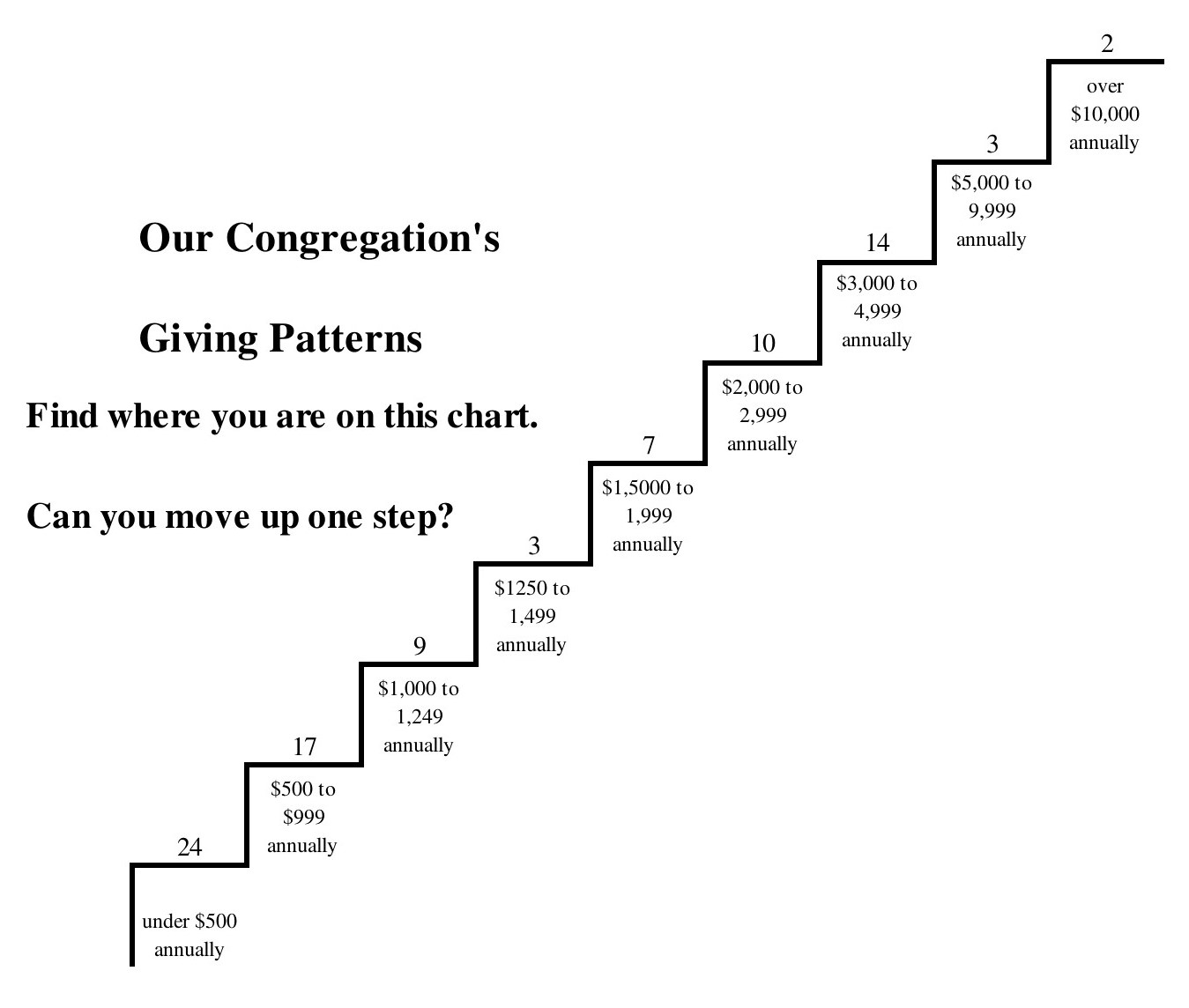 My own attitude towards and practice of stewardship has grown and evolved as I have matured spiritually. To me stewardship is my response to God for His gifts to me. It comes from an attitude that all that I am and all that I have are gifts from God. It is out of that generosity from God that I desire to return a portion of my gifts to Him. I do that through returning my time, talents and treasures to the work of God at All Saints. It is through all of us contributing our time, talents and treasures to God that we grow individually and as a Body of Christ.
Yours in Christ,
Floyd Siegle, Incumbent's Warden
November 10, 2019
Dear Fellow members of the Body of Christ,
Throughout this last year our church been working with the simple phrase "Growing the Body of Christ" This is a phrase that was much loved by St Paul. This simple phrase captures so much of who we are and who are to be to the world. All Saints has been very active in putting life into the Body of Christ. For me, I have witnessed the body of Christ being reflected in several wonderful ways. Here are four perfect examples of what we have done to put these into action.
Firstly, we had several events that helped foster Christian community. Our small group programs like photography, hiking, prayer and book studies have brought people together not only for fun but to share in the delight of God's creation. Also, activities such as bowling, the BBQ by the river, church potlucks, pie making, and our parish dinner gave us new ways to share laughter and enjoy time together.
Secondly, The Body of Christ reminds us of the ancient teaching that at the crucifixion, blood and water, flowed from the body of Jesus Christ. This was meant to suggest the sacraments which come from Jesus. "See" one of the Fathers said, "Christ is full of sacraments". We live in a time when, increasingly nothing, either in life or in death, is sacred. This is most evident in how society has swept away with any practices regarding death. So many times, at the death of a loved one a notice comes out that states "no services will be held". How can we find a place for grief, respect and a way for people to deal with death? So many today are like "sheep without a shepherd". By contrast we have the courage to speak the names of deceased loved one's before God on All Saints' Day and every Sunday. Our quarterly healing services and our current Bishop Ford Memorial Park project are also ways we can honour our own dead. Through these practices we can minister to not only our All Saints community but also to the wider community. Through them we say to all, life is sacred, we honour those who have departed and most importantly Your life and death are of infinite value to God.
The Body of Christ, then, reminds us of the house and the land where the people of God meet. And of our duty to care for them. We have set apart the Ben Greenfield Memorial Fund to for the purposes of ongoing care of this place (which Ben was instrumental is having us purchase). We have painted and shingled our roof in the last year with your generous assistance to this fund. We have also as part of the Columbarium project created plans to further develop our property as a sacred and accessible space for our parish and the wider community.
Lastly, we realize that the Body of Christ is not yet complete. All of those called by Christ into union with him are not yet part of his church. We are so blessed to have Rev Matthew Perrault join our leadership. Fr. Matthew has already begun some great work in expanding the excellent Invite Welcome Connect ministry. Just like it says, to Invite, Welcome and Connect newcomers to the Body of Christ. Remember to invite someone to church. Not only for Invitation services but anytime. Sometimes people only need to be asked and this is how we can be Christ's hand, open and welcoming to all.
These are some, not all of the ways, that during the last year we have put our theme "Building the Body of Christ" into action. By the grace and guidance of God, the Body will continue flourish and grow. There is a lot to thank God for, a lot to celebrate!
Yours in Christ
Ruth-Anne Marley, People's Warden