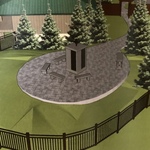 A Special Meeting of Parishioners was held on Sunday, January 19, 2020. The following motion was unanimously approved by a vote.
All Saints parish proceed with the construction of a columbarium and memorial garden; That the stage 1 columbarium and landscaping be funded through the proceeds from niche sales; That the memorial garden be named in memory of The Right Rev. Douglas Ford, who was once Incumbent of this parish.
Check out the information board and grab a handout of the proposed Memorial Garden from the display inside the church. Please talk to Ruth-Anne or Marylyn Pelletier if you have any questions regarding next steps and timelines.